Conflict Resolution Thumball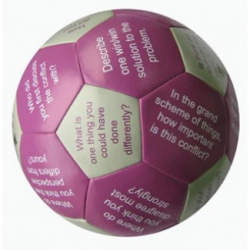 Description
Look under your thumb and share!

Share your reaction to whatever prompt lies under your thumb. Thumball™ is a soft 6" stuffed ball pre-printed with 32 questions or prompts and LOADS of interesting applications for meetings, training, and employee relations.

The Conflict Resolution Thumball has 32 different conflict resolution or peer mediation questions pre-printed on the panels of the ball.Invite your group to sit or stand in a circle. Read the group a conflict scenario and then ask them to toss the ball around and respond to the questions based on how they would try and resolve the conflict.